Terms Of Use Statement Privacy Policy Purchase Agreement
DISCLAIMER: The information on this site is for educational purposes only and is not intended to act as a substitute for medical advice provided by a qualified health care provider, nor is any information on this site intended to diagnose, treat, cure or prevent any disease.
FTC Disclosure: AMAZON ASSOCIATE - If you decide to purchase any products recommended on this site you should assume I may possibly receive some commission or royalties on qualifying purchases.
HEALTH : If anyone has a specific health issue you should always
seek medical advice.
Poisoning From Dental Amalgam
Here are just some of the many videos available linking mercury poisoning and dental amalgams. This is a very real problem and gradually people are taking a stand against the claims by dentists that mercury in fillings does not make people ill.

There is clear evidence mercury passes from the mother to the unborn child. Would you knowingly poison your child?

Amalgams can be incredibly dangerous BUT remember removal of amalgams should only be undertaken following a strict protocol. Unless proper procedures are followed your body could be flooded with mercury making you even more ill. Always seek out a specialised dentist to carry out the work.
When a Freya Koss tried to convince doctors and dentists her dental fillings had poisoned her, they told her the symptoms were all in her head.
That sounds really familiar to me.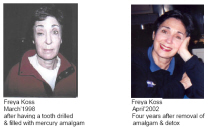 Freya is now the Director of Pennsylvania Coalition For Mercury-Free Dentistry and if you check out the site you'll discover the Top 10 Reasons To Support Mercury Free Dentistry.
Mercury, The FDA & The Truth, Wake Up America
Quecksilber the strange story of dental amalgam
Brain Neuron Degeneration via Mercury
Amalgam Fillings in Your Mouth Are Poisoning You (part 1)
Amalgam Fillings in Your Mouth Are Poisoning You (part 2)
Mercury Amalgam Dental Filling
Watch the videos on MercuryExposure.info and consider the cumulative effects of lead and mercury